Stef Mesman
Project Manager HomeWizard.
Specialist within electronics and visual tech, with 7 years' experience in the industry.
Do you have a security camera solution? Read about the benefits and technical features of using Nabto for a surveillance camera:
HomeWizard provides a platform for user-friendly and wireless control of home automation solutions on HomeWizard products, as well as for products of third- party manufacturers. It covers various functional areas and products, monitoring energy consumption (electricity, water and gas consumption), power (electricity usage on IoT devices: sockets, lights), security (IP cameras: live video streaming and photo capturing), home electronics (smoke detectors, robot vacuum cleaners), etc.
In addition to the home automation products, HomeWizard provides intelligent home peer-to-peer services, called HomeWizard online, which allows for push notifications and text messaging to be sent from the controlled product to the customer's managing device (iPhone, Android and PC). These additional services ensure greater security and optimization on all connected devices, for example, on a security camera it enables instant picture capturing and subsequent sending of that image to the user, in the event of a security breach in the secured area.
HomeWizard met Nabto at the IFA exhibition in Amsterdam in 2014 where Carsten Rhod Gregersen was a speaker at a seminar, talking about ''Solving IoT Challenges Using Peer-to-Peer Remote Access Connectivity''. HomeWizard pursued collaboration because they needed to have a greater capacity of data transfer on their security cameras, improved security and increased connection performance.
''At that time, our peer-to-peer service was not able to handle large data streams and we were in search for a supporting partner that provided safe and secure delivery of streaming videos to cellphones. We trusted Nabto's Scandinavian high level of quality and security standards.''

– Stef Mesman
Now Nabto's software is implemented on a range of indoor and outdoor security cameras, enabling highly secure real-time streaming of large data. The Nabto software permits a direct connection that enables mobile systems, smartphones and tablets to do remote management and control of security cameras without firewall hassle and extremely low latency via the free Cameras App developed by HomeWizard (AppStore, Play Store).
''Instant feedback from cameras is vital. And speed is crucial for this business. In these situations, we want our customers to be able to call emergency numbers and act fast! There is no time for doubt – we want our customers to be sure they have working video and can get a snapshot within seconds which they are able to deliver for relevant authorities for further investigation.''

– Stef Mesman
This solution highly benefits HomeWizard's customers:
It is fully configured and takes only five minutes for the end user to set up
The user's phone does not need to be connected to the Internet to be able to receive notifications. The system can also send text messages to the user when perceiving motion.
There is an extremely low transfer time between the information sent and received when it travels through the network from the device to the end receiver. The Nabto software allows HomeWizard to have minimum possible latency while messaging and provides broader functionality with extended preventive features to their existing products.
The free Cameras App enables HomeWizard customers to view multiple cameras at a time, control the pan / tilt / zoom, listen to what is happening, and talk back through the camera. It is also possible to record video clips and view them later using the app
The extra features created by the Nabto technology serves the end-customer in the most vulnerable situation when the importance of a system to be working as intended is crucial.
''Our customers can now remotely access,
control and observe what is going on at home, in real time. In addition to that, we are in the process of developing features of the security system where it sends status updates and push notifications to camera owners when the connection signal to the camera has been disturbed or any dubious behavior has been detected in the observation area – this way a customer can take immediate preventive action.''

– Stef Mesman
Stef Mesman has had a very positive experience with the software:
''At this moment we have 4 different camera models running with Nabto's software. So far, we have not heard any negative feedback, and in the security industry you will always hear a negative response once it occurs. Camera functions supported by Nabto's software always work! So, in this case, no noise is a good noise! Also, the uptime for your service is really good – no complaints there.''

– Stef Mesman
The Nabto solution highly benefits HomeWizard itself:
With Nabto software, all HomeWizard products can connect via a local network without the need for separate device-to-user authentication procedure, as Stef Mesman says: ''Users open the app, search cameras in the local network, the app finds all devices with Nabto technology, and the user then adds devices to the account – with one click of a button''.
HomeWizard can remotely send camera updates at any time, Stef Mesman elaborates: ''First of all, security updates are very important in the security industry. It is our top priority to update our customers' systems as soon as updates come out, due to the fact that those updates have a significant effect on security cameras' functionality.
Now we are able to push software updates to our customers at any time, remotely, to wherever they are located in the world. This saves us a great amount of money in our continuous software support and maintenance costs. In addition to that, if an order has been already shipped and is on the way to a customer when a new software update is ready, or we discover some bugs in the system that needs alteration, with Nabto's software we are able to push the latest updates and fix bugs even while the product is being shipped. This way we avoid the customer returning their order for us to the device, update the software and then re-ship the order to the customer.''
Remote customer support, Stef Mesman elaborates ''We are also able to provide our customers help by connecting to their devices remotely and providing support, for example, to authenticate devices or link them to their network''.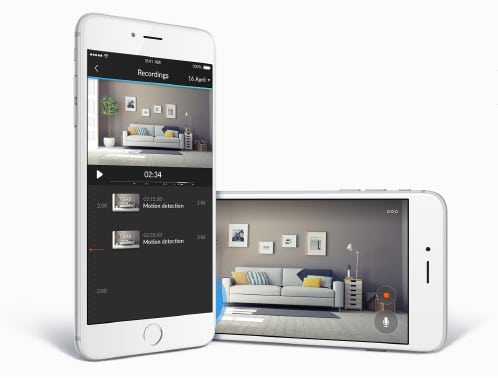 ''All in all, partnering with Nabto saved us a lot of time – and time in business is money. The software took a month or two for Nabto team to set up, which significantly speeded up time-to-market our product with a new feature. We trust in Nabto's software and it has proved to be a steady technology for our platform.''

– Stef Mesman