Jinbuhm Kim
Co-founder and CTO
at A-TEAM Ventures.
Currently a VP of Embedded System Development. Specialized professional with a major in Electronics Engineering and with 20 years of professional
experience within the IoT industry.
Remote control of 3D printers with P2P IoT
A-TEAM Ventures is a South Korean manufacturer of personalized 3D prototypes for small-volume productions. It has designed its own 3D printers and software and is an expert in on-demand 3D modeling providing an online simple-to-use one-stop-shop platform. A-TEAM Ventures has three main streams of business:
There are two typical FDM 3D printing methods: 1. By connecting the PC and the printer with a USB cable or 2. By saving the file that needs to be printed on an SD memory card and inserting the SD card into the 3D printer.
Printing by using a USB cable requires the connected PC to always be on. If the PC turns off/times out during printing, or the hosting program shuts down, printing fails, which results in the printing process having to start over.
Printing directly from an SD memory card is less dependent on possible connectivity issues. However, control and monitoring are impossible during the printing process.
Regardless the rather long process time, 3D printing provides significant benefits to many projects. 3D prototyping produces very precise and smooth surfaces, suitable for ease of handling and stable mounting onto other devices. It is great for the visualization of new products that are not mass-produced.
A-TEAM Ventures' main objective is to disrupt the manufacturing industry by fundamentally reshaping the way things are designed and made. After spending several years building technical know-how and competencies in the hardware domain, A-TEAM Ventures saw an opportunity to expand their hardware capabilities by enhancing user-experience through online and offline software services and products.
''User-experience in such a 'universal technology' era will grow in importance in the future, and providing easy-to-use solutions will be the key to success in the industry.''

– Jinbuhm Kim
Jinbuhm Kim, co-founder and CTO at A-TEAM Ventures, was in search of a wireless surveillance solution provider when he found that Nabto's partners had modules with Nabto's remote-control technology implemented, which perfectly matched A-TEAM Ventures' needs.
''I didn't see many companies providing the P2P solution for an embedded system. I think Nabto has a unique technology. Wi-fi connectivity is required for a 3D printer. Most printers only support a local network rather than a remote connection. By adapting Nabto's technology to our printers, we could overcome these limitations.''

– Jinbuhm Kim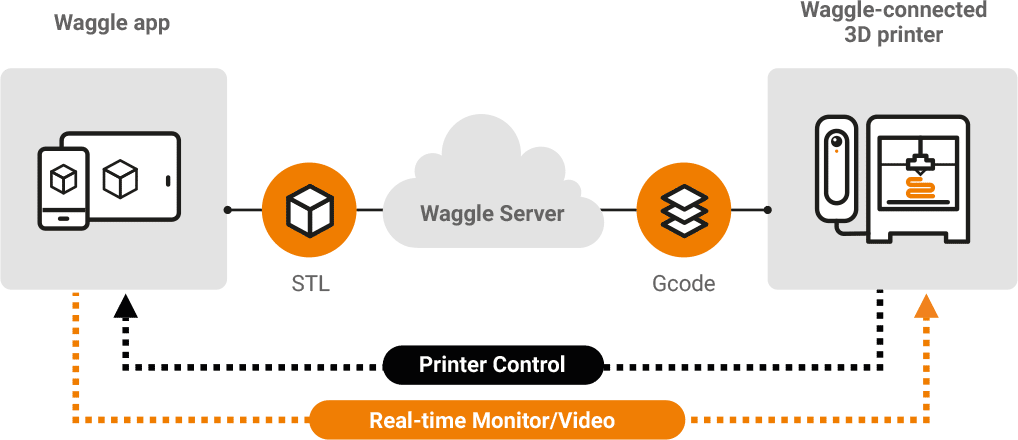 Kim has noticed increased demand among his customers to monitor and control the process of printing. Therefore, A-TEAM Ventures designed a device with Nabto's technology implemented and created Waggle – a control device that can monitor and remote control 3D printers. Waggle successfully finished a Kickstarter campaign and supports iOS and Android applications, as well as it is on the progress of developing a web interface, which eventually will enable streaming videos of work in progress directly to the managing device.
''Waggle provides a function for monitoring and remote control of 3D printers. Nabto's technology works as a remote P2P network service and handles the control data and video stream. The technology increased the user-friendliness of the gadget through the simplicity of configuration and was built to release the end-user from the worries about the DDNS set or firewalls for the network setup.''

– Jinbuhm Kim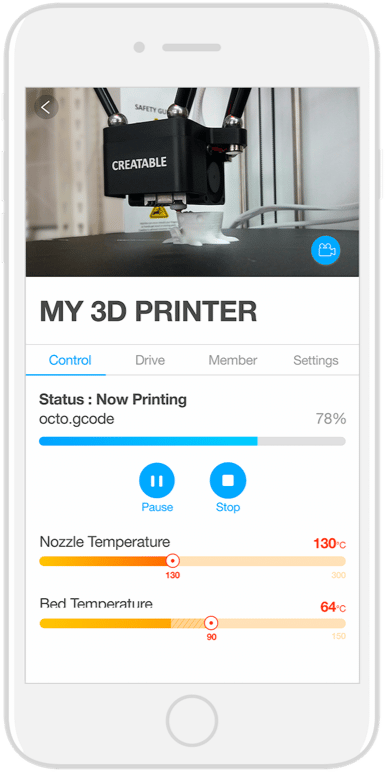 A-TEAM VENTURES' BENEFITS OF NABTO'S TECHNOLOGY:
Direct P2P connection – fast, simple, carries large amounts of data
Short time to market (TTM) – convenient and swift implementation onto the printers
Hassle-free secure connection – no configuration needed
"By implementing Nabto's technology in Waggle, it gives the end-users a product that makes it easy to connect remotely to their 3D printer. Especially, it was easy to develop apps using the AppMyProduct iOS and Android libraries provided by Nabto.''

– Jimbuhn Kim